48' Home Made 2017 - Chinese Junk - YS170121

Private Liquidation - Asking Price $90,000

Contact
General Description
Thomas E. Colvin, NA Design 48' ocean cruising auxiliary 3-masted Junk. She has a 5' draft, and dual integral keel cooling. There is lots of headroom for a six-footer. This is a big, stable, tough, easily maintained, operator-friendly boat with a great deck layout, and a capacity to cruise anywhere in the world. Design anticipates easy crewing by a couple, and single-handed under sail or power is a viable option.
Actual Condition
The owner was in the middle of finishing putting this fantastic project boat together. It is reported, due to health reasons, he had to suspend the project. All major steel construction has been completed, including grinding of all hull welds. The ship has also been sandblasted and painted.

There are well over 6,000 hours of construction in the Chinese Junk at this point. The hull, deck, bulwark, and cabin plate are high-strength low-alloy Corten steel. The frames, keel shoe and t-bar are A-36. All steel is certified, and from USA plants.

All plates were cut with plasma to preclude any warping. All welding was done with modern, inverter-based welding machines. The hull plate welds were triple welded with very high-quality filler metal. Generally, the interior welds were made with a dual shield mig process, and the exterior welds were made with a traditional stick process.

The rest of the work necessary to complete the project is primarily inside carpentry, plumbing, sail making and wiring. Almost all major parts, such as portlights, shaft, propeller, hatches, windlasses, masts, rigging, etc. are ready to bolt on to the hull now that the sandblasting and painting have been completed.

Equipment
Included in the Package:

- Three masts approximately 11,000 pounds of 50-pound lead bricks custom-sized for the keel space.

- 22 Lewmar #1 Ocean Series Portlights with interior trim and screens. Cam action lock and friction hinges to hold at any angle. Approximately 8 3/8 inches by 16 1/2 inches overall (7x14), Lloyd's approved. ("Ocean Series" is the top of the line, Lloyd's rated, heavy duty equipment.) (Lewmar #398920500) Cabin is prepared to bolt these on.
(Lewmar.com)

- 22 Lewmar Ocean Series Deadlights for the above portlights. These deadlights attach from the inside to the portlight frame. Great safety feature, no crawling on deck in a storm to fit deadlights. (Lewmar #360053919)

- Two Bomar 24 inch by 24 inch cast deck hatches. These cast hatches are the top of the line, custom ordered, Bomar units, double hinged, with the ability to open from two sides so that you may ventilate whether the wind is from the bow or from the stern: they include 6 dogs/latches and the ability to be opened or closed from inside or on deck, as well as to be locked from the inside. (Base unit is #173, with custom nomenclature for extra latches, dogs, double hinges and inside/outside capability: l, D,O,W.) Deck is ready to bolt these on. (www.pompanette.com)

- Two Maxwell Model VWC 3500 pound capacity windlasses. One unit is hydraulic and one unit is electric. The electric unit includes a foot switch, remote roving hand held unit, reversing solenoid pack, and the breaker isolator panel. Each unit has a manual option in the event of power failure. Either unit can be converted to either electric or hydraulic power, and all parts are interchangeable. The purpose of different power sources is to provide options in the event of on-board power problems.

- Three drums of ACCO hot dipped galvanized hi-test chain (grade 4) sized for the chain wheels on the Maxwell windlesses: One 600 foot piece of 3/8 inch hi-test chain with big links at each end. One 350 foot piece of 1/2 inch hi-test chain with big links on each end. One drum of four lead chains to use with rope anchor lines. Again ACCO hi-test chain with large end links.

- Two heavy duty 1/2 inch rated Maxwell deck mounted chain stoppers.

- Four genuine BRUCE anchors, chosen because they have an almost 100% probability of immediately digging in when they are employed. Two 176 pounders and two 66 pounders. Bow and stern roller fittings have been sized to accommodate these units. These anchors are considered substantially oversize by most authorities, but the very heavy duty windlasses and the welded-on anchor handling gear are designed to make them very easy to use, and thus, another significant safety factor. Roller fittings have been galvanized and welded to the hull.

- The bow has a fitting just above the waterline to engage one, two or three nylon lines to act as snubbers on a chain anchor line.

- 6 big Vetus type WKY cowl ventilators with dorade boxes, screens, and positive mushroom cap closure with controls to open or close from inside the boat. (Approximately 6 inch deck opening/ 5 1/2 inch air passage per unit.)

The following were to be used in a pilothouse, which you may or may not wish to add:

- Two Lewmar Ocean Hatches size 60, with trim and screen. (Lewmar #s 39660070, 367660 552)

- Four Lewmar Ocean Hatches size 70, with trim and screen (Lewmar #s 39670070, 367670552)

Note, there are 22 portlight and deadlight sets. There are 19 holes cut into the deckhouse for these portlights.

- Winches:Two Lewmar 44 CSTs (Self Tailing)

- Two Lewmar 30 CSTs (Self Tailing)

- Solid Hatch Hinged Rope/ Chain locker foredeck hatch: BAIER 15" x 24' aluminum hatch in a steel frame welded to the foredeck.

- Solid Hatch Hinged hatch in Forward bulkhead separating the chain & rope locker from the forward cabin. BAIER 24' aluminum hatch in a steel frame.

- Rigging: Complete rigging set by Brion Toss, author of the Rigger's Apprentice. All rigging designed and constructed for simplicity, longevity, and tradition. 7 x 7 galvanized wire rope, spliced, seized, served, and double served on the soft eyes. Includes closed turnbuckles and other necessary hardware. Should last 100 years with care and looks great. (Most of this was imported from Britain or Scandinavia.)

- Masts: Bolt-to-deck fitting, aluminum, tapered masts by P&K poles. (Fittings have been galvanized and welded to the deck at the proper angle.)

- Sailcloth: Approx 575 meters of nominal 24" (61 cm) Duradon Extra tanbark sailcloth. Approximately 125 meters have been hot-knife cut by the manufacturer lengthwise to widths of 11", 8", and 5' to provide edge tape, batten pockets and/or batten reinforcement. There is enough sailcloth for one complete set of sails and left over for any reinforcing or patching as experience dictates.

- Sail Hardware: All the necessary press-fit rings (100s) for the sails, as well as the mobile task-specific hydraulic press and dies. Should be enough for all sail and canvas work, as well as spares while voyaging. Junk sails are very easy to make because they are completely flat, however, they have a large number of fittings, primarily rings, due to the battens and manner in which the sails attach to the masts. The rings and fitting gear are of the highest quality.

- Propeller Lunenburg Foundry Bronze 26 x 22

- Propeller 1 3/4 inch 316 stainless (Lunenburg Foundry) Shaft

- Thrust Aquadrive antivibration unit

- Shaft Log: Custom, electrically isolated, unit designed by Tom Colvin and constructed by Lunenburg Foundry to be oil/grease lubricated from the inside to preclude the problems of sand and silt in the common water lubricated bearing. 316 stainless. (Lunenburgfoundry.com)

- Stuffing Box & Bearings: Heavy duty bronze units cast by Lunenburg Foundry

- Rudder Shaft: Unique hollow shaft allowing upper and lower bearings to be constantly pressure lubricated from inside the boat.

- Rudder Bearings. A primary top thrust bearing "hangs" the rudder shaft just off the lower thrust bearing under normal conditions. In case of hard grounding causing damage, the lower and upper bearings are designed to accept substantial movement and still operate in a useable fashion.

- Hydraulic Marol MRB-IOO totally enclosed Rotary Actuator (no shafts to corrode)

- Steering Marol HRP-60 helm pump for main wheel.

- Gear: JC-IOO ball joints for MRB-IOO

- Exhaust: Basic design is for dry exhaust to preclude the normal engine problems associated with wet exhausts. May be converted to wet "north sea" variety at the owner's option. Dual dry-type 304 schedule 40 directional option stacks are included.
A trailer is not included in this sale.
Nationwide transportation is available through CertifiedMarineTransport. Custom Cradles and shipment to port for overseas transport also supplied. Call Robert or Brian at (508) 478-0200 for logistics and quotes.
Engine(s) Condition
Please read Motors and Machinery Disclaimer.
Motors and Machinery Disclaimer
No statement of condition can be made regarding motors, engines or machinery, whatsoever. A photo may appear of the engine compartment and machinery, but it is entirely the buyers responsibility to inspect and determine their actual condition.
¿Necesitas Ayuda en Español?
Si necesita comunicarse en Español llame a nuestra oficina en Warwick, RI (401) 732-6300, pregunte por Virginia Barrios.
Usted puede encontrar Transporte, Marinas, Partes y mucho más en BoatHelpers.com
Specs
Year:

2017

Make:

Home Made

Model:

Chinese Junk

Model Type:

Sailboat

Length:

48'

Beam:

14' 3"

Draft:

5'

Weight:

25 tons

Engine(s):

No Engine

Fuel Type:

n/a

Location:

Irvington, AL

Stock #:

YS170121
Notes
Private Liquidation

Price:

$90,000
Contact Broker
---
Are You Interested?
---
Get our Weekly Newsletter
---
Please Note
We always encourage potential Bidders/Buyers to view the unit personally or have someone else inspect it for you prior bidding. It is entirely the buyer's responsibility to inspect and determine the unit's actual condition.
Fees
Item Fees Description
Amount
Buyer Premium Fee
6% of Sale Price*
* Unless Buyer's Premium Fee is noted on specific listing
Title and Documentation Transfer Preparation and archive record keeping
$95.00
Reproduction of lost documents or other search. *With a minimum prepay of $95.00
$65.00 per hour
Wire Transfer Fee (inside USA)
$30.00
Wire Transfer Fee (outside USA)
$40.00
Marina / Boat Yard Information
5 days free storage after winning bid/offer is accepted, storage is buyers responsibility thereafter.
We advice our customers to contact the Marina / BoatYard in advance for storage and any other fees.
Do not assume accessories or equipment for this unit may be in storage. This unit is being sold as seen. Make an offer or bid for this unit according to what she has when you view her.
Disclaimer: The Company offers the details of this unit in good faith but cannot guarantee or warrant the accuracy of this information nor warrant the condition of the unit. A Buyer should investigate such details as the buyer desires validated. This unit is offered subject to prior sale, price change, or withdrawal without notice.
All products be they owned or brokered by Certified Sales, Inc., CS Auto & RV, or its associates, are sold AS-IS, WHERE-IS, NO WARRANTY OR GUARANTEE EXPRESSED OR IMPLIED. NO WARRANTIES OF MERCHANTABILITY AND FITNESS WHAT-SO-EVER. No verbal agreements can be applied to the sale of this product.
Certified Sales, Inc. has 44 years of experience selling Repossession, Insurance Salvage, Donation and Brokerage Yachts, Boats, Marina Equipment, RV's, Cars, Trailers, and Motorcycles.
You may also be interested in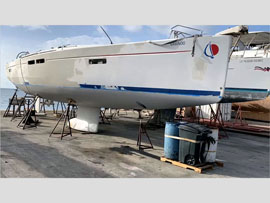 2014 46' Jeanneau